SAI BABA FUNERAL

Author: Svetlana Dubyanskaya
Sai Baba funeral, strange topic for an article. How can God be born or die? God is not born, God is immortal, but the Avatar incarnated on Earth has a physical body that lives according to physical laws, hence it gets old and sick and eventually dies. The body leaves, but Sai Consciousness is immortal.
Sathya Sai Baba was born on November 23, 1926 in the south of India. His birth name is Satyanarayana Raju. He left this world on April 24, 2011.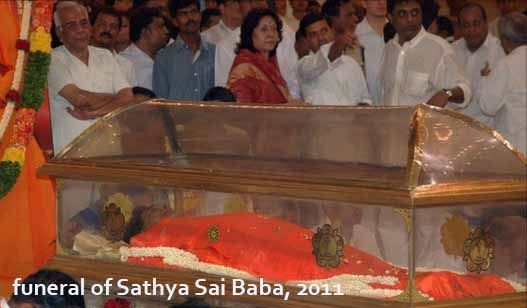 Many people humbly refer to him as an Indian guru, philosopher and philanthropist. His followers and devotees call him God, born on Earth with a special mission. At the age of about fourteen, he proclaimed that he was the embodiment of a famous guru named Shirdi Sai Baba. Little Sathya Sai Baba left the parental home to start fulfilling his mission, serving people and society, giving instructions on spiritual practices and healing the sick.
S.Dubyanskiy was lucky to be the translator of Sathya Sai Baba for several years. During the personal meetings with students and followers, he spoke in English, and S.Dubyanskiy translated for numerous Russian-speaking groups from Russia, Kazakhstan, Belarus, Ukraine. You can read S.Dubyanskiy's memoirs about Sathya Sai Baba in his books.