How to Meditate
Answers by Svyatoslav Dubyansky to the questions of Youtub viewers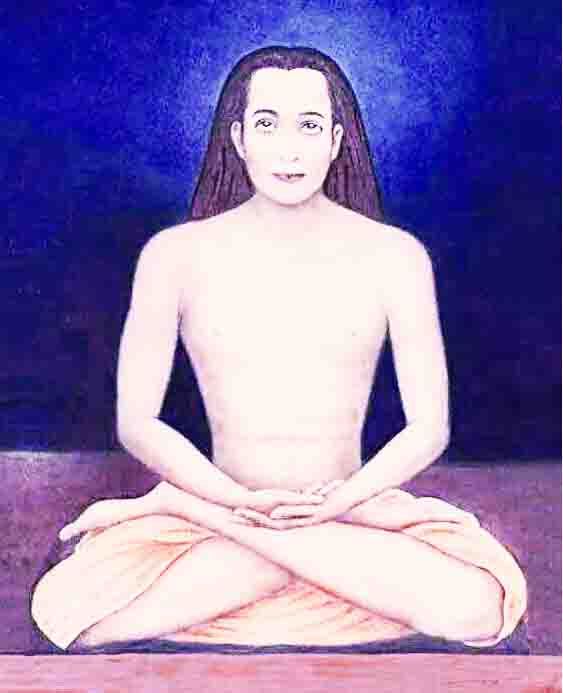 Question:
Tell me, what is the best hand position for practicing Kriya Yoga meditation? I read that Lahiri Mahasaya crossed his fingers as shown in the photo. Perhaps this is the best option?
Answer:
There are many possible hand positions, in yoga they are called mudras. There is no fixed position for the practice of Kriya Yoga meditation. Frankly, it is difficult to say what position of hands Lahiri Mahasa held during meditation. It is possible that it is exactly the same as in the famous photo, but perhaps not. Sri Yukreshwar preferred to keep his hands on his knees during mediation. My yoga teacher Ramaiah sometimes crossed his arms. The best hand position is the one you like best. The position that allows you to better concentrate on the process of meditation, to feel complete relaxation, is the one that is most correct for you personally.
Question:
Comparing the various systems of Kriya Yoga associated with Mahavatar Babaji, the question arises - why are these schools so different from each other, in terms of techniques? I can assume that Babaji gave general instructions focused on working with the chakras, bindu and channels, allowing the creativity of his students to manifest, which eventually led to various systems of Kriya Yoga.
Answer:
The tradition of Kriya Yoga is very ancient, at least several thousand years old. Very ancient texts mentioned general principles and techniques of meditation, such as Bhagavad Gita, Yoga Sutra Vijnana Bharava Tantra. Since the tradition is ancient, it is obvious that different directions and schools of Kriya Yoga have their own details of techniques. In the 19th century, Mahavatar Babaji taught Lahiri Mahasaya a large number of Kriya Yoga techniques, but Lahiri taught his students in different ways. My guru Yogi Ramaiah (1923-2006) also taught differently to different students. Despite the differences in techniques, the techniques of authentic Kriya Yoga still have common principles. Among the most important foundations are Khechari Mudra (a special position of the language), the study of the entire human energy-information system, the use of the basic principles of Ashtanga Yoga (eight step yoga), and Atmavichara (the process of self-exploration)
Question:
What is the difference between classical meditation (concentration - Dharana) and Kriya Yoga meditations? In my understanding, Kriya Yoga is an excellent system of preliminary preparation before the practice of concentration, which is the final technique in the general system of practice.
Answer:
Kriya Yoga is not a preliminary system of techniques, it is a complete system, beautifully described by the sage Patanjali. According to Ashtanga Yoga (eight limb yoga), Dharana is the sixth limb. Dharana means not only concentration, but also visualization, sensory sensation, concentration. In fact, this is the basic level of working with the techniques of Kriya Yoga. The next level is to move on to Dhyana, which means meditation. True meditation and contemplation is Atmavichara (self-examination of the nature of one's soul). After this, the highest stage of Kriya Yoga begins - Samadhi, that is, the state of enlightenment, unity with the Divine Consciousness.
Question:
In your opinion, what techniques of Kriya Yoga are best suited for the final stage - concentration? Based on personal experience, I can single out such techniques as: Aum Kausala Kriya, Ishvara Pranidhana Kriya, Uttara Kriya, Sahasrara Kriya.
Answer:
First of all, you need to remember that the final stage is Samadhi, the experience of dissolving in God. There are different levels of Samahdi, in the yoga tradition they are called: Savikalpa, Nirvikalpa, Sahaja and Shiva Svarupa. In order to gain the experience of Samadhi, one must practice meditation (Dhyana), which means a relaxed contemplation of the original nature of the soul. In order to approach the practice of meditation, we practice concentration (Dharana). This is the system we see in the Yoga Sutras. I agree with you that Aum Kausala Kriya, Ishvara Pranidhana Kriya, Uttara Kriya, Sahasrara Kriya are the techniques that best help you enter deep divine states.
Question:
Do I understand correctly that not all techniques can be used for the final stage of immersion, for example, Guru Pranam Kriya or Chakra Dhyana are not suitable for these purposes. Perhaps this also applies to techniques aimed at working with three bindus?
Answer:
Yes, I agree with you that some techniques are less related to the higher stages of immersion, they lead more to the opening of the chakras and energy channels. It is absolutely true that Guru Pranam Kriya or Chakra Dhyana can be attributed to such techniques. However, the meditation techniques that are associated with the development of the three Bindu still belong to the highest meditative techniques.
Question:
Maybe practicing prolonged concentration is not worth it at all? Is it enough to make a certain complex of Kriya Yoga techniques, for example, within an hour, and this will already lead to results?
Answer:
There are many approaches. For some, it is more effective to practice shorter meditations, say half an hour. For some, it is better to practice longer meditations of two or three hours. Of course, there are practitioners who can practice for many hours every day. An important criterion is regularity and stability. It is important to tune in to something that you will practice every day for the rest of your life. What's the point of practicing for many hours and then stopping the practice after a couple of years? Alas, often people stop practicing after two or three years. The best result, from the practice of Kriya Yoga meditation, can be obtained by accumulating good fruits gradually. Remember that "quickly is when gradually."
Question:
Could you elaborate on the purpose of practicing a technique such as the Jyoti Mudra and the Kutastha Star associated with it?
Answer:
The Kutastha Star is a luminous mystical five-pointed star that can be seen on the subtle plane in the Ajna Chakra. Paramahamsa Yogananda talked a lot about this mystical experience, but this experience is not a criterion for the success of meditation. Perhaps Yogananda attached great importance to this mystical experience, because his American students of the early twentieth century, with the help of this image, could more easily imagine what meditation on the Ajna chakra was like. You can see the star Kutastha with subtle vision in almost any meditation technique of Kriya Yoga. Jyoti Mudra is a technique that is dedicated to opening all seven chakras, awakening the energy potential of the spine.
Question:
The Mother of God in Christianity is the goddess Shakti? The power that awakens the divine in people?
Answer:
It is very difficult to draw a parallel between the Christian archetype of the Virgin and the Hindu goddess Shakti, although such a comparison is in some sense possible. The veneration of the Mother of God in Christianity arose many centuries later than the historical mother of Jesus Christ lived. The first centuries in Christianity, the feminine aspect of the universe was personified by the goddess Sophia, who denoted wisdom. There are many goddesses in Hinduism: Saraswati, Lakshmi, Parvati, Durga, Kali, Chandi, Uma, Lolitta, etc. All of them symbolize the mother aspect of God. In Hinduism, there are hundreds of goddesses, just as in Christianity there are several hundred Virgins, which correspond to various iconographies. In my opinion, it is quite possible to draw a parallel between the Mother of God and the goddesses of Hinduism. All of them symbolize the feminine principle in space, they have many aspects. The only difference is that Christianity and Hinduism arose and developed in different cultural and historical contexts.
Question:
Today I watched a story from Jayalakshmi's house on Instagram. After I saw Paduka, the mantra began to sound in my head: OM Aham Saha Sri Sathya Sai Sai Paduka Namaha. Question: Is there such a mantra? Can you read or sing it? I attached a file with the sound as I hear it.
Answer:
Paduka are the symbolic sandals of God. It is through the feet of God that the devotees receive blessings and mercy. Sandals are constantly in contact with the lotus-like feet of God, so in Hinduism there was a tradition of honoring Paruk (sandals). Jayalakshmi is a unique saint and devotee of Sathya Sai Baba who gave her his Padukas (sandals). Of course, these are not ordinary sandals, but symbolic, they are made of silver. Jayalakshmi regularly performs worship rituals on these sacred padukas. These rituals are attended by many people who receive blessings, solve many of their problems and heal from illnesses. The mantra you heard has a couple of errors, both grammatical and in content. Therefore, I do not advise you to practice it. However, there are some powerful Bija Mantras in the Sathya Sai Baba tradition that I will be teaching in seminars soon. It is important that the mantras have the correct sound and content, ideally they would be received with initiation.
Question:
Is it possible to say that the situation that has developed with humanity now (known to everyone) is an evolutionary round for the cosmic mind, in terms of expanding the Christ Consciousness (Christ Consciousness)?
Answer:
Everything that happens in the world is the result of personal and group karma. However, there is something that is more significant than karma, and this is the wise providence of God. To what extent do we understand the providence of God? How wise and correct is our model of reality? The problem is that under an hour people form false ideas about the world and events. For example, think about who controls the world? Perhaps we can say that these are politicians and oligarchs, and perhaps aliens. Some prefer to say that the laws of nature govern the world. My model of reality is that the world and all events are controlled by God who created this world and all living beings living in it. I agree with you that all events are coils of the cosmic mind, which means that everything has the deepest meaning. Any events open up additional opportunities for self-development, it is important to be able to see these resources.
Question:
Is it true that there is a legend that Taoism brought Siddh Boganathar to China under the guise of Lao Ji?
Answer:
My guru Yogi Ramaiah sometimes said that such a version does exist. However, there is no evidence to support this. Marshal Govindan, a Kriya Yoga teacher from the USA, proclaims this version as a definitively verified fact, which is not very correct. Personally, I don't think it is. The ancient Chinese culture is very rich in itself and hardly needed a Yogi from the south of India to teach them any knowledge. In our time, there are many dubious theories on the history of religion and esotericism. Looking at the teachings of Lao Tzu, one can rather find similarities with the philosophy of the Buddha, and it is completely impossible to draw a parallel with South Indian Hinduism.
Question:
Hello Svyatoslav, I felt a lot for myself doing Tai Chi Quan exercises. Please tell us about this for the direction of the practice of Kriya Yoga.
Answer:
It is very pleasant and unexpected for me that you call Tai Tzu Quan the direction of Kriya. In fact, of course, such a formulation of the question is not very correct. Taoist practices such as Tai Zi Quan, Bagua and Qi Gong are completely independent ancient directions of consciousness harmonization. I have been practicing all these Taoist practices for many years, they help me keep my body in good shape, harmonize the flow of thoughts and perception. I think that it is quite natural for a modern person to combine many directions and traditions, different approaches and philosophical systems. Undoubtedly, Taoist practices greatly help me to practice Kriya Yoga meditation more deeply.
Question:
Do your Satsangs have specific topics or are they all about everything?
Answer:
My Satsangs are held on Youtube channel, every Saturday at 11 am Moscow time. Satsangs are formed by questions from the audience, so their topics are very broad. Of course, we don't discuss politics, economics, health care, and similar topics, because I'm not an expert in these matters. Most often, questions that come from viewers relate to: meditation, Kriya Yoga, mantra practices, human energy-information structure, chakra structure, kundalini energy, lucid dreaming techniques, philosophy of Hinduism, Buddhism and Christianity. We are talking about ancient sacred texts, self-development practices, modern esotericism. Everything related to the history of religion, internal self-development, enlightenment and self-realization is the subject of our discussions.
Question:
Tonight I had a toothache and I caught myself unconsciously repeating the Gayatri mantra, what does that mean?
Answer:
There are many ways God can help you become more lucid in your sleep. Sometimes it happens through pleasant dreams, and sometimes through nightmares. Of course, it is very sad that you have a toothache. I hope that you were able to solve the problem with the help of a good dentist. However, it is truly great that in such an unpleasant situation you began to chant the Gayatri Mantra. This suggests that in your inner world there is a strong and deep connection with spiritual practices. Alas, not many people in such situations remember about God and the Gayari Mantra. Develop these abilities, deepen your awareness in a dream.
Question:
Please tell me what is the meaning of puja? live broadcasts are now available from Indian Shaivist temples. First, the priests lay garlands of flowers around the Jyotirlingam in large numbers, then all this is abundantly moistened with milk, and where do these offerings go next? Water with milk is driven away with a mop, but where? Wet garlands are thrown right backhand somewhere at the parishioners or what? What is the meaning of coloring Jyotirlingam? Either the face of the Divine Mother is depicted in a masterpiece, or suddenly someone with a mustache? Is there a system for this?
Answer:
Nowadays, there is a regular live broadcast from many temples and ashrams in India, as well as Christian and Buddhist churches. I think this is a wonderful opportunity for people from different countries and cities to join the sacred rituals of worshiping God. The Hindu ritual tradition you are asking about is very complex and varied. The caste of brahmins, priests, worship according to ancient rules. You ask about a strange face with a mustache, this is one of the images of the god Shiva. The most profound instruction on the practices of ritual worship was given by Krishna in the text of the Bhagavad Gita. Krishna said that God accepts worship only if it is done from the heart, and any conventions are not essential. There are three main qualities: Tamas (depression), Rajas (selfish activity), Sattva (action based on wisdom and compassion). What matters is not how much your worship is in accordance with the prescriptions, but what matters is how sincere you are in your service to God.
Question:
I have dreams in terms of quality that are absolutely normal, but in the plot of the dream, as it were, I don't fully understand that I'm dreaming. I can't control it except for some forks in the plot. How not only to understand that I am dreaming, but also to be at the same level of consciousness as in life? And what changes the quality of sleep? Has anyone else had the same strange lucidity in a dream?
Answer:
First of all, read my book, which is called: Babaji Meditation in the World of Lucid Dreams. In this book, I discuss many aspects and very specific methods for developing lucidity in a dream. First of all, you must understand the basic meaning of your desire for lucidity in a dream, then begin to regularly practice methods that can help you properly use the experiences of subtle journey in a dream. There are also many videos on my Yiutube channel on this topic. Here is a link to a playlist dedicated to lucid dreaming, now there are about seventy videos, their number is constantly growing:
More articles:
Prema Sai continued discussion

Gunaparthi, birthplace of Prema Sai
Best self-development
Kriya yoga and the origin of tradition
Sathya Sai Ashram - Puttaparthi
Esotericism - the path of self-development
Kriya Yoga Meditation is the Science of Breathing